I like to pride myself on being an organized individual, but my master closet system is lacking horrible!
When my husband and I first bought our home back in October it came with the white plastic closet organizer system which I thought would be great. Well…. I was wrong. The moment we hung all our clothes up the top rack broke apart from the wall and my clothes were everywhere.
My first question was "Did the people who lived here before have no clothes?!" I mean we didn't put a lot up there! So the hubby had to go in and reinforce everything but we still weren't satisfied, we need something better, stronger and more organized!
This is my closet system right now :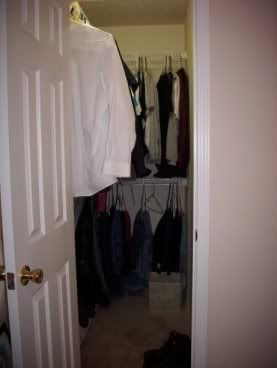 Now to me the system is a bit off… see that shelf over the middle row? You're supposed to be able to put stuff there! Can I? No. I have regular sized clothes hanging over it… nothing out of the ordinary, and yet that shelf is useless for us.
Maybe the people before us were 6′ tall or so, maybe. But my husband and I? We are 5'3 (yes, both of us). See the top shelves where I should be able to put things? Yup.. it's useless to me also!
So every aspect of my home is organized but this! And to be honest… it is driving me nuts. I want a nice clean look in here, I want to be able to go into my closet and not feel the need to grab something and run right out!
We also have a dresser in our bedroom that takes up more space than I like, so we would like to get rid of that also. You have to know that we live in what's called a "starter home" and there's really not much room anywhere. So I would love to have all our clothes in the closet and out of the bedroom!
The question is…
how am I going to do this? Well one really good idea is to
design a closet organizer system
just for my Master! Instead of going to the local hardware store and picking out something that I
hope
will fit, I can go online and design one specifically for
my closet
!
Want to check out what I may be designing? Visit
ClosetOrganizersUSA
to check them out! Next i'll be telling you all about the fantastic design system and may even have a way to
help you get organized yourself!

---
Have a great deal or something else you want to see on here?
Email me
This Post Contains Affiliate Links - Disclosure Policy